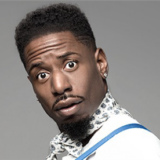 The Alkaline Oasis is proud to invite you to Willie Lynch Jr's comedy special!  Join us for an unforgettable evening of laughter and healing on Friday, October 13, 2023, at The Alkaline Oasis, located at 958 Halsey St, Brooklyn NY 11233.
Doors will open at 7pm, and the show will start at 8pm. Get ready to laugh and heal! Did I mention that this event is free! Not only is it free, but Dr. Sebi's son, Victor Bowman, will give away free herbs to everyone that comes to see the comedy special.
Willie Lynch Jr's comedic talent knows no bounds!  With his razor-sharp wit, clever observations, and impeccable timing, he has a knack for delivering side-splitting punchlines that leave audiences in stitches.  His unique comedic style, combined with his charismatic stage presence, creates an electric atmosphere that guarantees an evening filled with laughter and joy.
Prepare yourself for an unforgettable night of laughter as Willie Lynch Jr takes the stage at The Alkaline Oasis. Get ready to have your funny bone tickled and your spirits lifted as he unleashes a wave of laughter that will have you rolling in the aisles.
And that's not all! Along with the humor, you'll have the opportunity to receive free herbs from Victor Bowman, Dr. Sebi's son.  Victor is well-versed in the healing power of herbs and wants to share their benefits with everyone attending the comedy special. It's a unique opportunity to enhance your well-being while enjoying a night of laughter.
Don't miss this incredible event where laughter and healing converge! Mark your calendars, gather your friends, and join us at The Alkaline Oasis for an evening of comedy, free herbs, and unforgettable moments.